"We just had the pleasure of having Wycliffe Gordon spend a couple of days at our Crane Youth Music Summer Music Camp. Words do not do justice to the positive impact he had on our campers in the classroom and on the concert stage. He is both kind and truthful, and his ability to educate, entertain, and inspire is stunning." –Tim Savage Crane Youth Music Jazz Ensemble Director
Wycliffe is one of the nation's foremost music educators having held positions at Juilliard School of Music, Michigan State University and currently at Manhattan School of Music in the Jazz Arts Program. Gordon is regularly featured as guest faculty, teacher, clinician and conductor for All-State festivals, band clinics, the Louis Armstrong Summer Jazz Camp, the Int'l Trumpet Guild, the Int'l Trombone Festival and countless other high school and university programs and guest appearances.
Two Sides of the Slide
Gordon teamed with trombonist Joseph Alessi of the New York Philharmonic and students in both of their studios at Juilliard in creating and presenting the master class "Two Sides of the Slide" for Jazz at Lincoln Center.
Children's Books & DVDs
Zin! Zin! Zin!  A Violin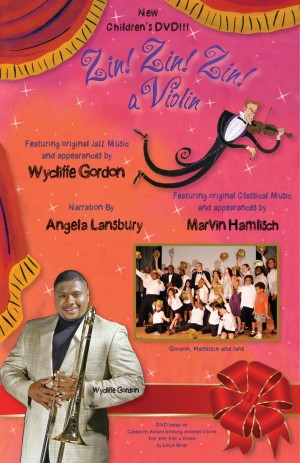 Wycliffe appears on this excellent DVD that introduces children to the instruments of the orchestra, alongside award-winning composer Marvin Hamlisch. Narration is provided by the legendary Angela Lansbury.   A book is also available.